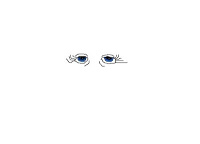 Oh good grief, I thought, as I got out of my car.
The address, a few doors from Highland Park Police Station, was one of those big white pseudo-Spanish-style places popular in the early twentieth century.  The entire house except for the tile roof was painted white.  Stucco, shutters, doors, sofits, eaves and gutters.  White.  Okay, I thought.  I'm here to help this client with color. 
The woman on the telephone had asked me to come over to help with…. …something….she was vague.  One of my design clients had recommended me.
The petite woman who opened the heavy front door was in slim leopard-print pants and a loose-fitting, flowy top with metallic gold decoration.  She wore gold-colored sandals.  Her dark hair was styled in the "big hair" of the day.  "Please come in," she said softly.  "I've been waiting for you."
She ushered me into a large back room and offered me a drink.  Water, please.  I looked around.  All white.  Carpets, rugs, couches, chairs, end tables, lamps … likewise.  The only color was in art hanging on the walls and a few scattered animal-print throw pillows.
After she brought my water we talked briefly about her friend, my client, whom we both really liked. I asked what help she needed.  Anticipating the mention of  color, I was surprised to hear she wanted advice on where to put new closets.
That's an architectural problem usually and I knew several architects who could do it.  But I asked to see the space. Maybe I could suggest something.
We went up the curved front stairway and turned into the huge master bedroom.  White, of course. I asked if she lived alone.  "Yes, my husband and I were divorced years ago."
"May I see the closet area?"
We turned into a dressing room with two large walk-in closets, a shoe closet and built-in drawers.  They were all full.
"So, uh, where were you thinking you would like to add another closet?"
"Oh, I don't know.  That's why I called you."
"What is behind these closets?  Another bedroom?"
"Yes.  It used to be my daughter's, but she moved after college."
"May I see that room?  There may be a way to simply enlarge the closets you have now by taking in a bit of your daughter's room."
Back out into the upper hallway and toward the hallway on the other side of the stair well.  There were two bedrooms on that end, across from each other.  We went into the one that backed up to the master closets.
This room was also white, which by this time I expected.  There was a double bed with nightstands and two chairs and a table.  They had been pushed back to make room for standing clothes racks that filled the center of the room.  Hanging on the racks were hundreds of items of women's clothes, many with tags hanging from them, hats on top of the racks and shoes lined up below each rack of clothes.
I asked, "Do you use the closets in this room?"
Without speaking, she walked over and opened two doors to show me clothing-jammed closets.
Okay….maybe make this entire room into her "new" closet, I thought.
We went across the hallway to the other bedroom.  Surprise…it was ALSO full of standing clothes racks, hats, shoes, purses.  All looked new.
(Should I add at this point that this wasn't a closet problem at all?)
"Uh….would you consider having me help on an hourly basis to go through your clothes and "organize" them with you?  (Translation:  "massively weed them out.")
"Well…that's a good idea.  I guess I could use some help.  I'll tell you what…..I'll call you.  I'm going on a cruise in two weeks and I need to go buy some clothes for the trip."
The lesson for me was that if someone doesn't know a problem exists, they certainly won't know they need help.  Maybe buying clothes can be cheaper than therapy, but I doubt it in her case.
She never called.