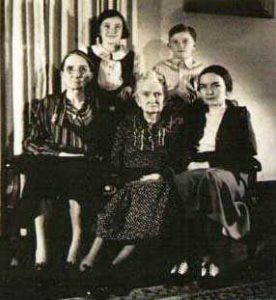 The world lost one of the great storytellers this week and many of us lost a friend. On one of Liz's visits to me, I wrote down two of her stories. She said she didn't want me to write them because she wanted to write them herself so I did no more. What we have lost is her own telling of her childhood. Still, these two short tales will serve to let us know how wonderful her stories were.
SHOT
Nannie turned from the sink, drying her hands lightly on her apron and stared hard at her grandson. "Robert Edward, I'm going to buy you a tombstone now, with only one word on it, SHOT, and everybody in town will know who it is." This comment was directed at a very recent lapse in judgment on Rob's part.
Robert Edward, "Rob," was one of the four Graham children who happily roamed their neighborhood pretty much unsupervised, but Rob, second oldest behind his sister Liz, was especially inventive in mischief. The Grahams lived in a large two-story wooden house on Sixth Avenue that held four generations of their family, from great-grandmother Mamie, grandmother Nannie and her sister, to Uncle John and their mother and father to Liz and her three siblings. The neighborhood of Corsicana, Texas was like many small Texas towns of the 1950s and 60s; children played outside most all day, only coming home at last to eat supper and go to bed. Sticks were swords, fingers pistols and tea towels capes.
Across the street were the Smiths, Rob's best friends John and younger brother Joe, who was Rob's age. …And then further away there was Stanley Richards. Stanley was always a little different as he "heard voices" in his head. Rob worried about Stanley because he would do things like asking Rob to look in a hole in the ground and listen to the voices coming from the hole.
Stanley lived in a two-story wood house with his parents and toddler twin brother and sister. One day Joe, Rob and Stanley had been out shooting targets with their 410 shotguns and were upstairs in Stanley's house messing around and talking tough with Stanley's shotgun. Stanley, who had unloaded his gun, was holding it and showing it to his friends when the gun went off, shooting Rob in the leg with a load of bird shot pellets. The Richards' housekeeper Cora had been coming up the stairs carrying a tray with bottles of cold Dr. Pepper, potato chips and a bowl of ketchup for the boys to enjoy. When the shotgun went off, she screamed and threw the tray in the air. The ketchup came down on Stanley's little brother's head, who started crying and ran down the stairs and out the front door. Seeing the child's panic and the ketchup, Cora yelled upstairs, "Mr. Stanley you done shot the baby," as she chased down the stairs after the ketchup covered boy. Stanley ran down after them. A neighbor lady across the street had come out of her house when she heard the gun go off, looked at frightened Stanley, the ketchup-covered child and shouted, "Stanley Dale Richards you've done it now. You finally shot somebody. You're goin' straight to hell!"
At this, Stanley fainted flat on the sidewalk.
Joe and Rob, arms around each other hobbled on three legs outside, heading to the Graham house, leaving Stanley, Cora and the ketchup-covered toddler behind them.
Also standing outside her own house was Rob's grandmother Nannie watching the boys rushing toward her. Nannie whipped out her arm and pointed east and told them to walk to the hospital which was about 3 blocks away. Walk? They took off and struggled to the Navarro Clinic where the doctors right away took Rob to the operating room and removed the pellets. He recovered at the hospital with his leg in one of those hanging hammock-like contraptions that held it up in the air.
Every day Stanley trudged to the hospital with some kind of treat for Rob and sat next to Rob's bed and cried," I'm sorry, I'm so sorry, I was sure the gun was unloaded,"  over and over. After about three days of his crying, Rob interrupted his I'm-sorrys to confess that the gun was unloaded and he and Joe had put the shell in the gun when Stanley wasn't looking.
SWITCHES
Our childhoods had pretty firm boundaries. When we crossed them, there were consequences; punishment was swift and memorable, making sure we wouldn't do it again. Such punishments as "time outs" certainly didn't exist in the 1950s. What did exist was a bush in every back yard.
Bushes have small leafy branches….once leaves were pulled off they became switches.  Switches…
So, part of punishment was having to go to the bush and pick your own switch to be switched with, on bare legs. We quickly learned the small switches hurt more than a larger one, so selection mattered. I have memories of my sisters and I lined up in the hallway outside the bathroom each holding our selected switch, arguing about who was going to "get it" first. The bathroom was our switching place because it had only one small window, which was closed for child yelling and the neighbors were less likely to hear. We waited, no one wanting to be first…or last.
My friend Liz also remembers switches. She lived in a large house with four generations of family. One day, her little brother George had been naughty.. again ..and Uncle John told him to go get a switch off the bush. Liz saw Uncle John looking out the window. He put a finger to his lips and motioned to her to come look with him. Below  in the back yard was George, busily breaking off switches, stripping leaves, turning to switch one of his bare legs, hopping around then throwing it away. Only to cut another then repeat the process over and over.
Later, they heard George clomping slowly up the stairs before he appeared in the room holding his chosen switch in his hand. His head down, he held out the switch to his uncle.
Uncle John looked at him and said, "Well, boy, I don't think I need to switch you as it looks like you've already switched yourself."
(In attached photo – seated l-r Mamie Greenlee Blackmon, her mother Lizzie Johnston Greenlee, Robert Blackmon Taylor. At the rear l-r Cynthia Taylor, John Taylor  Date of photograph unknown)
History:
The three generations living in the big house on Sixth Avenue:
Generation 1:
"Mamie" – Mary Hayden Greenlee Blackmon 1869-1971
Generation 2:
"Nannie" – Robert Greenlee Blackmon Taylor (Mamie's daughter) 1895-1981
"Mollie" – Mary Elizabeth Blackmon (Mamie's daughter) unmarried 1889-1982
Generation 3:
"Uncle John" –  John Frederick Taylor (Nannie's son) – unmarried 1926-2006
"Mama" – Cynthia Ann Taylor Graham – 1924-2013
Generation 4:
The four Graham children
Mary Elizabeth "Liz" Graham Chatterjee – 1942-2021
Robert Edward "Rob" Graham – 1945-2009
Rebecca Greenlee "Becky" Graham – 1949-
George Frederick Graham – 1950-2011