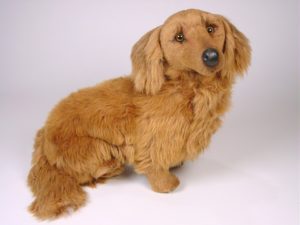 She watched from the window, the view changing, just as she stayed unchanged.
In the past, her clothing changed often but now she wore the same red dress day after day, the shoulders becoming sun-bleached, the hem fragile.
Beside her stood her friend, a toy dachshund who shared her vigil, glass eyes alert, seeing and not seeing.  He had been placed there by Wilda, a poignant reminder of a beloved companion, long gone.
Wilda had grown up in the small town, home of her German grandfather.  His son, her father, had been lost in the Great War fighting her grandfather's native land.  Their home, however, wasn't focused on loss, but instead was filled with creative energy, mostly fueled by Wilda's widowed mother, who refused to not experience joy.
Wilda grew up not only tall, smart and creative, but also with an effervescent quality that eventually made her a sought-after model in New York.  Within that glamorous world, she had many admirers, but she met her match in a handsome sailor from Chicago.  It was World War II, a time that drove many couples to abandon caution and marry, almost as though it was an American woman's patriotic duty to provide a military man with someone to come home to.  So perhaps it was that as well as love that drove Wilda to marry her sailor. Then she watched for him to come back from the sea.
When he did return from that terrible war, Wilda was waiting.  It was then she realized that although he appeared uninjured, there were unseen wounds. What she had thought was desperate war-time drinking continued after he returned.  No longer in his crisp white uniform signaling purpose, he seemed aimless, which made life difficult for him.  He was, of course, still her handsome husband who made a fine show of charm… most of the time. So she brought him to her hometown to be with her family, in search of a safe harbor.  Perhaps there he would heal and find focus. He seemed, instead, more lost, with little clue how to make a place for himself.  It was Wilda with her outsized personality that made him acceptable, ensuring the couple's inclusion in social occasions.  Her sailor, landlocked in the small town, didn't find financial success but did find employment, his love for Wilda keeping his compass steady most of the time.  An adventurous person by nature, his life now revolved around Wilda, a life he didn't resent but instead wistfully wished was more like he imagined.
Wilda was greatly loved in the town, her talent and taste widely admired.  Those traits made her a natural to open a dress shop in one of the downtown area's central streets.
She called the shop "The Window," a response to its most prominent and ornate street feature.  Although the width of the shop was only the window and a carved door, inside was all warmth and Wilda's signature charm.  The ladies' clothes for sale were chosen with her impeccable eye.
It was from there in that lovely window that the lady and the dachshund came to view what would be their world.
Although her sailor was almost ten years older than she, it was Wilda that died first.  When she was gone, it seemed all his heart had gone with her. He stopped drinking then and yearned for Wilda to see he had stopped, but it was too late.
He left the lady in the window wearing the last dress Wilda had put on her, a red one.  He could not bear to make a physical change that would mean she would never again be there. And although he tried for some years to keep the shop open by himself, it wasn't he that had made it work. So, it gently and not so gently died.  Then the shop closed altogether and sat empty, both Wilda and her sailor gone. And the lady in red with her constant little companion stayed, waiting.