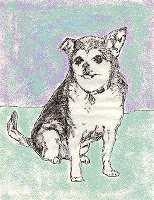 19 December 2011
Kitty, our "tiny terrorist" chihuahua mix had been having heart spells in increasing frequency in which she lost consciousness.  It was terrible to see.  Then, quite suddenly, a spell would be over and she would be back on her feet behaving naturally…for Kitty.  The vet had given us three kinds of pills, which I had been crushing to give to her with turkey slices twice a day.  Dr. Murray said there was nothing more to be done for her, that she would eventually have one of the spells and simply stop breathing.  I remember Dr. McClung saying the exact thing about Mama.  And, like Mama who left us during a nap, that's what Kitty did this evening.
Kitty was the grumpy, naughty alpha of a large pack of much bigger dogs.  She kept her position by reminding the rest of them, regularly biting them, making sure she was always the first to drink out of the freshly-filled water bowl each day and waiting inside the doggie door for them to try to come in then biting each one.
Mealtimes were "trial by Kitty" for us.  She wouldn't eat unless she had someone with her.  If we left the room, even for a minute, she would wait until we returned to continue eating.  It sometimes took over an hour.  Dr. Murray called her a "social eater," which is apparently a real term.
Although she daily patrolled the yard for intruders, pugnaciously stalking the perimeter with her light, prissy, tip-toe walk, she was never house-broken.  She also didn't deign to snuggle with her "caretakers."  We called her "the princess," and indeed she certainly accepted our servitude.
Kitty, her 4 brothers and sisters and their white maltese mother had been turned in at the animal shelter.  The puppies were about 6 weeks old, just big enough to fit in your hand.  Clearly, the "daddy" of the black and tan litter had been a chihuahua, the only hint of maltese tiny smushed-in noses and odd ruffs of longer hair around puppy necks.
I had taken her to a meeting at the high school that December in 1995 to see if I could get her mother and the whole litter adopted, Kitty included.  I hadn't considered adopting one of the puppies for our family as we had never had a dog as tiny as a chihuahua and I worried about the handicap smallness would be with our other, larger dogs.  Our daughter Kate begged to keep her.  So, of course, she stayed.
Her smallness was never a handicap.
She wasn't pretty, looking more like a bat than a dog, but we loved her like parents love their ugly children.  She had an over-sized chest and neck, giving her a burly, pugilistic appearance.  Only one of her ears stood up, the other cocked half-way.  The hair on her black head had in the last years turned grey, making her appear to be wearing a white hat.  Her short, pushed-in face was permanently caught in a vampiric snarl until she lost all of her teeth, making her mouth hang open and her tongue stick out…and her breath much better.  Although short on looks she was very long on personality.
Veterinary medicine gave us two miracles in the last few years, with health and time added to Millie and Nanny, who both left us this year.  There were no miracles, however, for Kitty's heart.
No, she wasn't pretty, but she was ours.  The empty space she leaves much bigger than she was. Thank you, Kitty Witty, for letting us share your life.
© Dianne West Short – 2011-2016 All rights reserved.